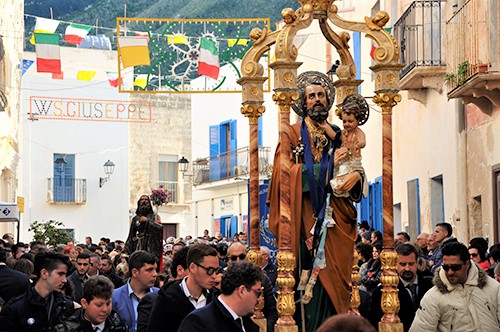 On the island of Marettimo, March 19 marks the feast in honor of St. Joseph, the most important occasion when the strong sense of belonging to the island and attachment to traditions is manifested.
Festivities begin with the novena, a recitation of prayers repeated for nine consecutive days in the presence of the saint whose effigy, in addition to the church, is framed at altars that families set up in their homes.
The festive air enlivens the town since the eve when, after the flag raising with the image of the saint, the brass band cheers up every street. On the evening of the 18th, everyone attends the ritual of the Duminiara in which three piles of bundles of wood representing the Holy Family are made to burn. In the central fire, as tradition dictates, old boats were burned to the cry of Evviva u Patriarca di San Giuseppe , followed by a choral Vivaaa.
The next day, a stage decorated with myrtle twigs is set up in the main square. Everything is ready for the most moving moment of the festival, the Rite of Lodging reenacting the flight to Egypt.
The religious rite, usually celebrated by the bishop of Trapani, is followed by the Ammitata di Santi, the traditional meal prepared for the Holy Family. The band's music then accompanies a collective ritual in which people eat pignolo, petra mennula, cubbàita di giuggiulena, and cassateddre di ricotta, typical sweets that are offered by families out of devotion.
On March 20, the last day of the festivities, three panuzzis are distributed for each family, thus reminding how much the island's patron saint is a protector not only of workers and the family but especially of the poor. The day is likewise dedicated to St. Francis of Paola, u Santu Patri, protector of seafarers. These are days of joy and involvement in which the sacred and profane blend harmoniously. The traditional games, pignateddi, u iocu antinna, a cursa i sacchi, songs, dances and performances that enliven the evening give everyone, and in particular the emigrants in the mainland and abroad who almost annually return on this occasion, an awareness of the profound value that ties to their homeland have.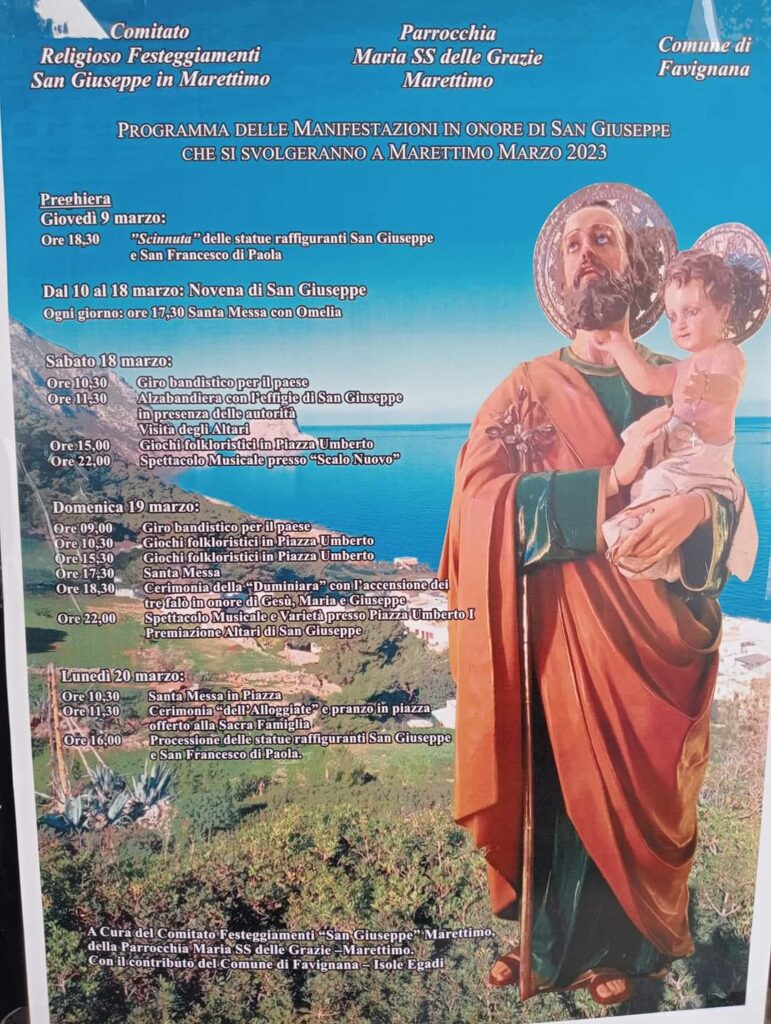 To request a personalized offer on overnight stay in Marettimo's Coves for the festival, fill out the form below and we will get back to you as soon as possible!